Julienne Schaer, formerly a forensic photographer for the Manhattan District Attorney's Office, now specializes in editorial photography. As a photojournalist, Schaer has covered many of the city's celebrations & events, and the photographs have been published extensively in print and on the internet. For the past several years she's worked with clients, Brookyn Bridge Park and Hudson River Park, to document the beauty details of their parks, as well as their construction projects.

Her continued work photographing the build of the Brooklyn Bridge Park has produced over 8,000 images that chronicle the transformation of the 1.3-mile of Brooklyn's industrial waterfront into New York City's most exciting new public space.



Schaer received a Master of Fine Arts in Photography from The Rhode Island School of Design (RISD).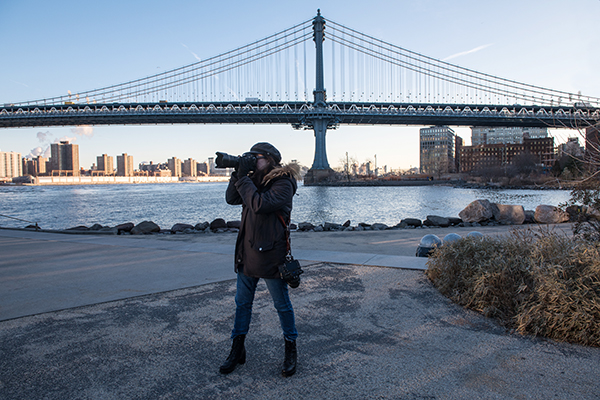 PUBLICATIONS
NYCGO.COM
BROOKLYNBRIDGEPARK.ORG
PEOPLE MAGAZINE
BUDGET TRAVEL
THEEYEOFPHOTOGRAPHY.COM
NBCNEWS.COM
CBSNEWS.COM
VOGUE.COM
NEW YORK MAGAZINE
CNN
BIZ BASH
TRAILER: TANGO OF PIAZZOLLA, DARKNESS AND ANGEL
INTERIOR DESIGN
FOX NEWS TRAVEL
NPR
BBC NEWS
THE NEW YORK TIMES
HUFFINGTON POST
TRAVEL AND LEISURE MAGAZINE
THE WASHINGTON POST
PHOTO DISTRICT NEWS
ARTNET NEWS
NYC LANDMARKS 50 ALLIANCE
MARTHA STEWART WEDDINGS
THE HECHINGER REPORT
THE NEW YORKER
THEATREMANIA
OLAFUR ELIASSON – SPACE IS PROGRESS – FILM
BAUWELT
ARCHITHESE
METALOCUS.ES
LE MAGAZINE, JEU DE PAUME
HONG KONG ARCHITECTURE SCIENCE PRESS
SIGLO NUEVO MAGAZINE
EN ROUTE, AIR CANADA MAGAZINE
DELTA SKY MAGAZINE
ELA LANDSCAPE ARCHITECTURE OF KOREA
BASEDESIGN.COM
GOTHAMIST.COM
BOMB MAGAZINE
ROLLING STONE (JAPAN)
DER STANDARD
PUBLIC ART FUND
USA TODAY
AZURE MAGAZINE
WONDERLAND MAGAZINE
GARDEN DESIGN MAGAZINE
BARNEYS BABBLE
USAE NEWS
WRESTLING WITH ANGELS – FEATURE PHOTOS
SONY PICTURES – RENT – BACKGROUND PHOTOS
METROPOLIS MAGAZINE
DWELL MAGAZINE
DESIGNOBSERVER.COM
BROOKLYNDESIGNS.COM
REDSOX NATION MAGAZINE
CURBED.COM
NEW YORK DAILY NEWS
NEW YORK POST
SWISSINFO
ARTNET.COM
BROWNSTONER.COM
METROMIX.COM
THE VILLAGE VOICE
THE BROOKLYN PAPER
BROOKLYN ARTS COUNCIL
THE BROOKLYN EAGLE
BROOKLYNRADIO.NET
LEGAL TIMES
WIRED MAGAZINE
INTERVIEW MAGAZINE
QUEST MAGAZINE
BUSINESS WEEK
BROOKLYN MAGAZINE
CRAIN'S
NEW YORK REAL ESTATE JOURNAL
MANHATTAN LAWYER
NEW YORK LAW JOURNAL
CHESKY RECORDS – ROCKIN THE SPIRIT
CHRYSALIS RECORDS – THE PANTHER BURNS
ZAVE DISC – FRANK MAYA
CLIENTS
NYC & CO
BROOKLYN BRIDGE PARK
BARCLAYS
L'OEIL DE LA PHOTOGRAPHIE
MARRIOTT MARQUIS
BUDGET TRAVEL
NYCXDESIGN
DOWNTOWN BROOKLYN
BROOKLYN BOTANIC GARDEN
HUDSON RIVER PARK
MADISON AVENUE BID
DUMBO BID
THE HECHINGER REPORT
NYC LANDMARKS 50 ALLIANCE
COLUMBIA UNIVERSITY
SKANSKA
SAINT ANN'S WAREHOUSE
MARRIOTT, ESSEX HOUSE
BARNEYS.COM
THE HIGHLINE
BROOKLYN YOUTH CHORUS
PHOTOVILLE
NYCEDC
GARDINER & THEOBALD, INC.
NEW VISIONS
STORM KING
F.C.R.C.
WARNER BROS PICTURES
TED BAKER
ASIA SOCIETY
FOX STUDIO
CBS/WESTINGHOUSE
TRANSPORTATION ALTERNATIVES
RESTAURANT ASSOCIATES
JANE'S CAROUSEL
ARTIST SARAH SMALL
AT & T INTERACTIVE
THE NYC WATERFALLS
STUDIO OLAFUR ELIASSON
THE PUBLIC ART FUND
MAYOR'S OFFICE OF SPECIAL EVENTS
BRIC/ARTS/MEDIA/BKLYN
SCENARIOS USA
A.I.P.A.D.
ASIAN CONTEMPORARY ART FAIR
LE MAGAZINE, JEU DE PAUME
CITIZEN'S UNION
EDINBURGH INSPIRING CAPITAL YACHT
STUDIO DANIEL LIBESKIND, ARCHITECT LLC
BROOKLYN BALLET
SILVER BROWN DANCE COMPANY
RESOLUTION: 4 ARCHITECTURE
RURAL STUDIO
OGILVY & MATHER
THE GEORGE BALANCHINE FOUNDATION
INDIGO HANDLOOM
SIERRA REALTY CORPORATION
MDP PUBLICITY
M.L.R.C.
KNOLL
JOSEPH E. SEAGRAM & SONS
SOLAS COMMUNICATIONS
B.H.A.
DUMBO ARTS FESTIVAL
VISITBRITIAN.COM
VISIT ENGLAND
BROOKLYN DESIGNS
UNION SETTLEMENT
ÉLAN
SIMON & SCHUSTER
NEW YORK FOUNDLING HOSPITAL
POLAROID EDUCATION
NIPPY INC
NYC PARKS DEPARTMENT
NYC PUBLIC ADVOCATE'S OFFICE
NYC MAYOR'S OFFICE
LEGAL AID SOCIETY
MANHATTAN DISTRICT ATTORNEY'S OFFICE
Site built using Syndex 2 for WordPress, thanks to the brilliant Marc Kremers!